Our mission is to show our love for God and humanity, exemplifying acts of goodwill and kindness, giving of ourselves and striving to lift up others in the name of Jesus.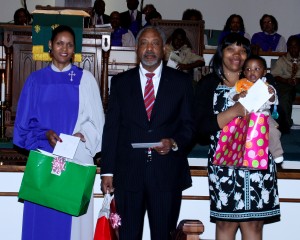 An organizational meeting was held at the old Mount Zion A.M.E. Zion Church, on the third Sunday in February 1925.  The meeting was composed of a group of faithful ladies on a mission for a new and much needed ministry; hence the Ever Ready Club of Mount Zion A.M.E. Zion Church was formed.  One of the original senior ladies, Mrs. Susie Watson, remains a faithful and dedicated member to this day.
In 2006, the Ever Ready Club was reorganized under the direction of Rev. Claude A. Shuford under the leadership of the current president, Mrs. Lois Heard.  This ministry has faithful members with new ideas and a commitment to carry on its ministry.
The Ever Ready Club continues in the following ministries:
Children's Ministry – sit, monitor and mentor the children during Sunday morning worship.
Grieving Ministry – contact family of deceased, provide assistance as needed.
New Birth Ministry-acknowledge new born baby with card and gift.  The parent(s) or grandparent(s) must be active members of Mount Zion A.M.E. Zion Church.
Pastoral and Church assistance-available to assist with any needs at the Pastor's request.
Sick and Shut-In Ministry – Make visits, phone calls, special day cards and distribute gifts to the elderly and the sick and shut-in during the Christmas holidays.
The Ever Ready Club's mission through these ministries is to provide assistance, lift up the name of our Lord and Savior Jesus Christ and be "Ever Ready" for whatever need comes our way.