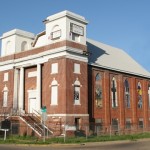 Located at 657 South Holt Street, Montgomery, Alabama, this historic treasurer is listed on the nation Register of Historic Places.  It can boast of being the site where the Montgomery Improvement Association (MIA) was organized on December 5, 1955 and Dr. Martin Luther King was given his first leadership role in the Modern Civil Rights Movement as president of the MIA.  Additionally, the church scenes in the movie, "The Long Walk Home" were filmed in this building.  In 1965, participants in the Selma to Montgomery Voters' Rights march gathered for rest and refreshments in the fellowship hall of Mount Zion.
Pastoral leader has also helped this landmark to be important.  The seeds of protest were growing in Montgomery long before the arrest of Rosa Parks on December 1, 1955 and the bus boycott.  Reverend Solomon Snowdon Seay, pastor of Mount Zion from 1948-52, led the Black community in early protests as president of the Civic League.  More recently, Reverend Percy Smith, Jr. (1965-72) became the first Black man to run for the Mayor of Montgomery.
In 1990, the congregation of this historic edifice moved to a new church building on West Jeff Davis Avenue in Montgomery, Alabama.